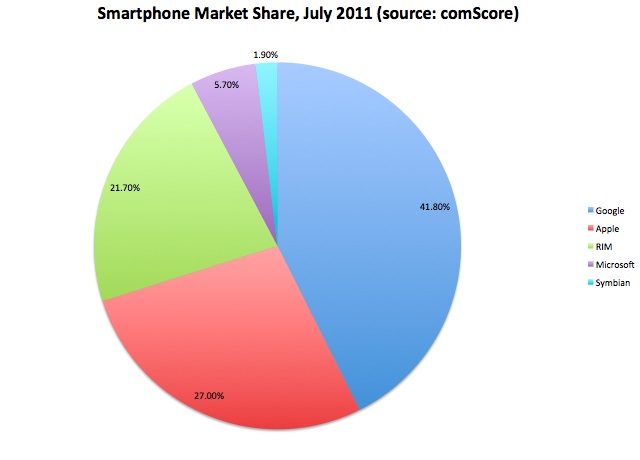 Android and Apple together now account for nearly 70 percent of smartphone subscribers in the U.S., according to new estimates for July put out today by comScore. Android phones command nearly 42 percent market share, while Apple's iPhone grew slightly to capture 27 percent. Android is growing faster, up 5.4 percent from April and up 1.7 percent from June, whereas Apple's share is up 1 percent for the three-month period and 0.4 percent fro the previous month.
The two smartphone powers keep taking share from RIM's Blackberry, Microsoft, and Symbian. Blackberry took the biggest hit, down 4 points since April, 2011 to 21.7 percent. Microsoft's mobile OS share is down 1 percent to 5.7 percent of U.S. smartphone subscribers. And Symbian is barely hanging onto 1.9 percent share in the U.S.
In terms of how people are using their smartphones, text messaging still tops the activities with 70 percent of subscribers stating that they use their phones to text. Browsing and downloading apps come in next with about 41 percent of users doing those activities, which kind of makes you wonder what the other 60 percent are doing with their smartphones. People, these are like computers. Please use them accordingly. That means open those browsers and download some apps! Otherwise, get a flip phone.


Android is a software platform for mobile devices based on the Linux operating system and developed by Google and the Open Handset Alliance. It allows developers to write managed…



iOS is Apple's operating system for their mobile devices. It debuted in 2007 with the release of the first iPhone, but has since been extended for use with the…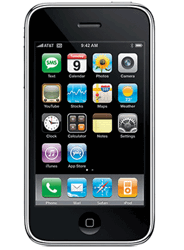 "comScore is a global Internet information provider to which leading companies turn for consumer behavior insight that drives successful marketing, sales and trading strategies.
comScore's experienced analysts work closely with…

Related Android Posts: