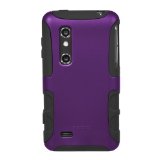 Overall thickness of only 2.2 mm
The interior casing is made of highly durable yet compact and lightweight polymer to absorb shock
Arachnid design of the exoskeleton gives your device extra protection at the most vulnerable spots
All controls and ports remain fully accessible and functional while in the case
For use with: LG Thrill 4G and Optimus 3D
The DILEX case is the perfect companion for an energetic lifestyle. It adds minimal thickness to your LG Thrill 4G or Optimus 3D, while leaving ports, controls, and camera lenses accessible. This dual-layer case includes an interior silicone sleeve with grooves for better grip and the arachnid design of the skeleton extends out to protect vulnerable parts of your LG Thrill 4G or Optimus 3D such as the corners and sides.

List Price: $ 29.95
Price: $ 29.95
Related Android Posts: